18.30
And that is a wrap! A magnificent day for England fans as they reach the World Cup final for the first time in 27 years.
There will be a new name on the trophy on Sunday evening.
So join us again for all the build up and action at Lord's.
18.27
England continue their hot streak at Edgbaston after today's dominant World Cup semi-final victory.
Who wants a message from the England captain? Here you go!
Former England captain Andrew Strauss gave his verdict after the match on Sky Sports Cricket.
Root, who finished unbeaten on 49, is relishing Sunday's final against New Zealand.
There is a Jofra Archer tweet for every occasion.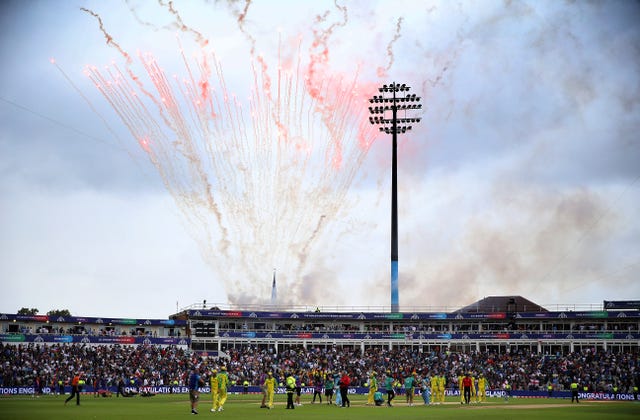 Woakes said England were brewing with confidence, despite the group-stage defeat to Australia last month.
The prime minister has congratulated the England team on their victory.
The World Cup final will also be on free-to-air television, with Channel 4 showing Sunday's finale.
Morgan will lead England to a World Cup final against New Zealand on Sunday.
Finch also hailed the opening partnership of Bairstow and Roy.
Losing captain Finch was magnanimous as his side were heavily beaten.
Former Pakistan all-rounder Shahid Afridi congratulated England after reaching the World Cup final.
England will play in their second World Cup final and their first since 1992.
Woakes was named as man of the match for his bowling display. Here is what he had to say on Sky Sports Cricket.
Former Australia seamer Jason Gillespie was gracious in defeat on social media.
Former England players Ian Bell and Matthew Hoggard enjoyed the emphatic victory.
There will be a new name on the Cricket World Cup trophy on Sunday evening.
From one England team to another.
ENGLAND WILL PLAY NEW ZEALAND IN THE CRICKET WORLD CUP FINAL
The captain heaved Behrendorff over mid-on to seal victory for the World Cup hosts. Morgan finished unbeaten on 45, with Root 49 not out. New Zealand next at Lord's.
32nd over ENG 222-2
Root senses a half-century but is stuck on 49 not out with two required.
31st over ENG 215-2
England need just eight to win after a Behrendorff wide and a Root hook to the ropes. Top quality for the World Cup hosts.
30th over ENG 210-2
Morgan fires his seventh boundary through the off side before Root reverse sweep's to the fence. England's task is now 14 runs from 120 deliveries…
29th over ENG 197-2
Behrendorff keeps it tight with his second maiden of the match. Just 27 required for England.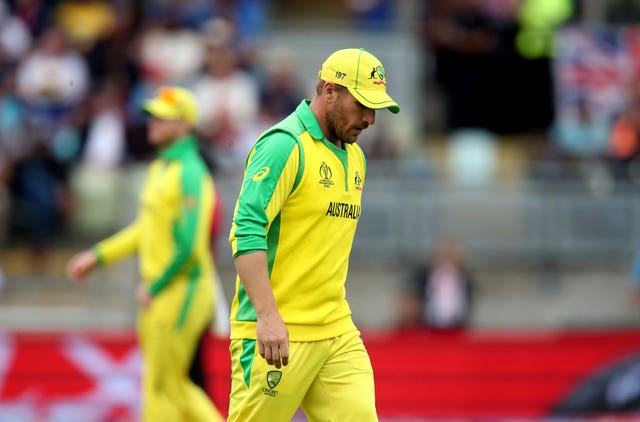 n and Root have put on 28th over ENG 197-2
The England captain rattles off successive boundaries, but there was another scare when he tried to cut it fine. Luckily, it failed to reach short third man.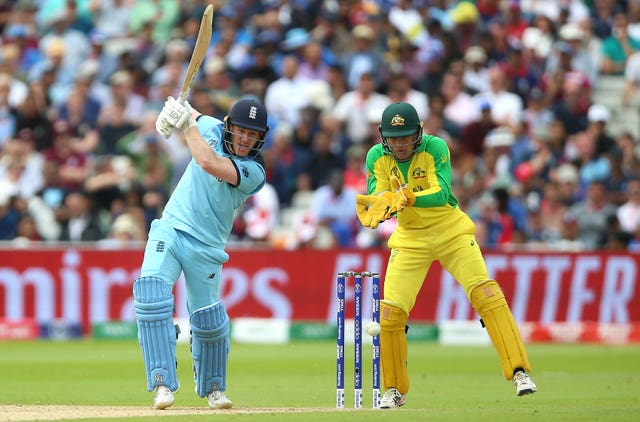 27th over ENG 186-2
Morgan is getting his eye in and finds the rope with a hook. England are cruising to victory here.
26th over ENG 178-2
Lyon returns for the Baggy Greens but Morgan produces an great reverse-sweep for four, with England needing less than two runs an over for victory.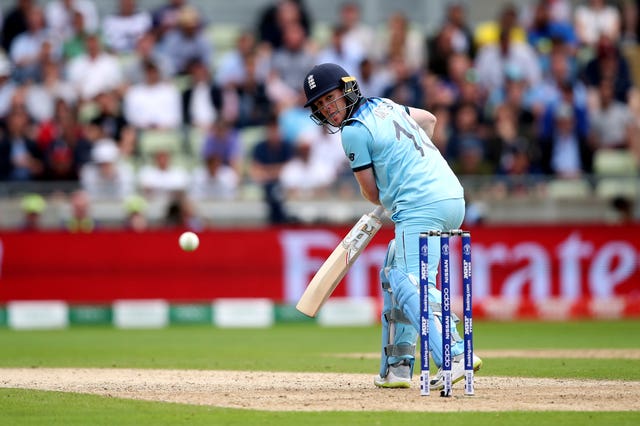 25th over ENG 171-2
England need just 53 runs from 150 balls to reach the World Cup final. Root clips one off his toes to the boundary as we reach the halfway stage of the innings.
24th over ENG 166-2
Eight runs conceded by Cummins as Morgan finishes the over with a fine four over mid-off.
England are being cheered on by Prime Minister Theresa May, a Number 10 spokeswoman has said.
"I believe she is being kept up to date with the score."
Asked if Mrs May would attend the final if Eoin Morgan's team make it, the spokeswoman added: "I don't want to jinx it."
23rd over ENG 158-2
A bit of a lull in the match now after the big hitting and quickfire dismissals. Saying that, Morgan hits his first boundary with a one-bounce four.
22nd over ENG 153-2
Cummins concedes just two from his sixth over of the day. England need 71 from 168 balls to reach the World Cup final.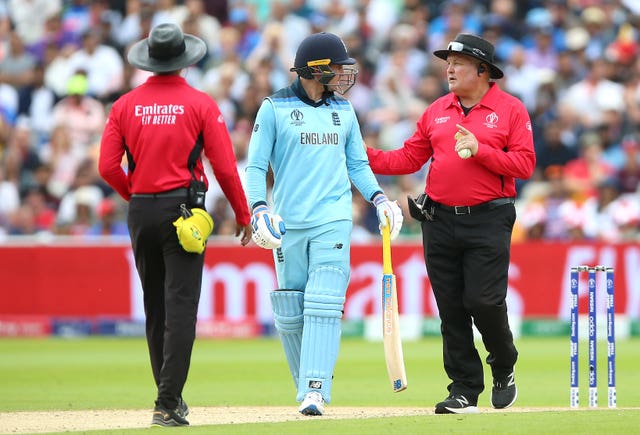 21st over ENG 151-2
A pair of twos for England's new pair Root and captain Morgan.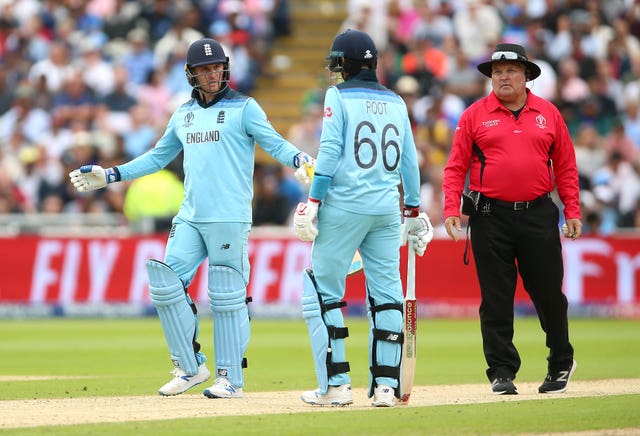 20th over ENG 147-2
Big blow for England! Roy departs as Australia take both openers in the space of 15 balls.
WICKET Roy 85 b Cummins c Carey
Controversial decision as umpire Kumar Dharmasena raises his finger. Roy attempts to hook a Cummins bouncer and the Australians appeal. It is given to Roy's disgust, who refuses to move and he has a right to be annoyed. He is nowhere near the ball but England do not have a review, which would have saved the opener, and he has to trudge off.
19th over ENG 141-1
A misfield gifts Roy another boundary as he moves to 84. But only five come from the over.
18th over ENG 136-1
Starc takes his 27th wicket of the tournament – the most at a single World Cup – but new man Joe Root hits three boundaries from his next four balls.
WICKET Bairstow 34 lbw b Starc
Starc makes history as he appeals for a lbw. The umpire gives it and Bairstow reviews, but it is plum and the opening partnership is broken at 124.
17th over ENG 124-0
Stoinis comes to mix up up for Australia and looks to have stemmed the runs before Roy cracks one through mid-wicket for four.
16th over ENG 116-0
ROOOOOOY! Smith comes into the attack and gets swatted. Roy brings up England's hundred with a six before cracking two more in row. The third one registered a huge 101 metres.
And Kevin Pietersen believes Roy should be facing the Australians again this summer.
Former England captain Michael Vaughan is enjoying what he sees at Edgbaston.
15th over ENG 95-0
Starc returns as Australia search for a wicket. But Bairstow takes the aerial route with his first for a four, which Roy follows suit two balls later. Another crisp cover sees Roy move onto 53 not out. Superb start by England.
14th over ENG 80-0
Roy flicks another one off his hips and it finds the ropes. There was a scare as a Cummins cross-seamer is pushed by the opener, but it lands just of the fielder at mid-off.
13th over ENG 76-0
The first opening for Australia as Bairstow top-edges Lyon, but the ball does not fine a fielder and races to boundary at third man.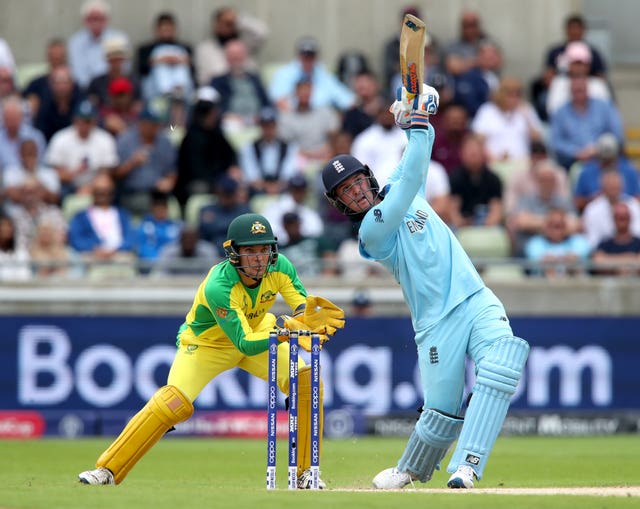 12th over ENG 71-0
That just sums up Australia's day so far. A Cummins bouncer goes leg side of Bairstow and beats Carey behind the wicket for five wides. Worry for England though, as the Yorkshireman looks to have injured his left ankle after slipping when running for two. He is back on his feet after a lengthy spell with medical staff and bats out the final two balls.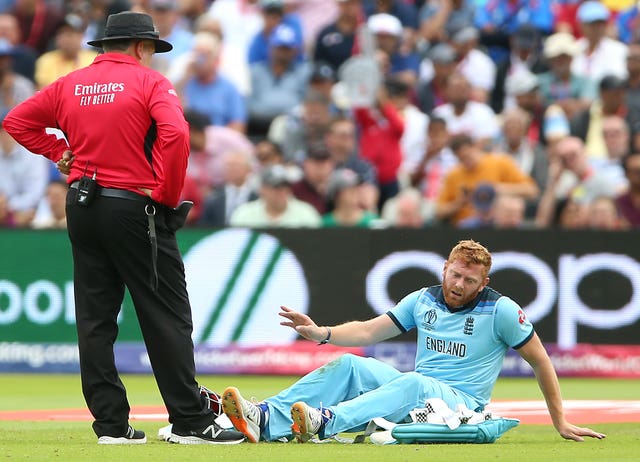 11th over ENG 63-0
Not the start Nathan Lyon would have wanted. Roy smashes the spinner back over his head for a huge six off his first delivery of the match before reverse-sweeping him for a four later in the over. He concedes 13.
10th over ENG 50-0
50 UP FOR ENGLAND! Seven runs for the over, which included a fine cover drive from Roy for two.
9th over ENG 44-0
Cummins keeps Roy wrapped up for the first five deliveries before the Surrey man clips the last to the ropes.
8th over ENG 40-0
Minor appeal as Behrendorff switches ends. Australia refuse to review as he hits Roy's pads. Seven from the over, though, as Bairstow crunches a drive past the bowler, who could not stop it hitting the boundary.
7th over ENG 33-0
Pat Cummins replaces Behrendorff in the bowling attack. A Bairstow stroke through the covers for two is all he concedes.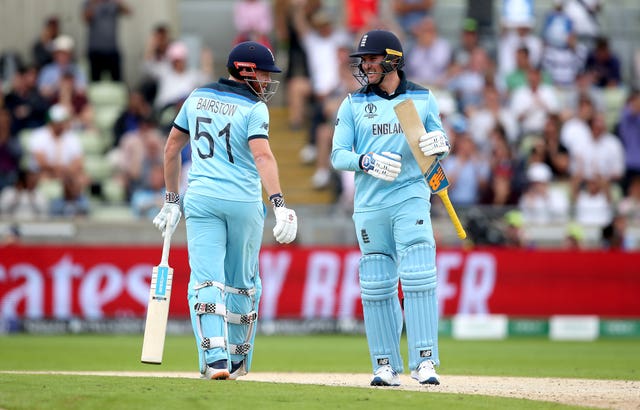 6th over ENG 31-0
SIX! Bairstow joins the action with a fine four before Roy flicks off his pads all the way for England's first maximum. Starc has conceded 23 runs off his opening three overs.
5th over ENG 19-0
A single and a two is all England's openers could muster off Behrendorff. The left-arm seamer is really hitting those lines and tucking both batsmen up.
4th over ENG 16-0
Roy bookends Starc's second over with crisp cover drives. They both sounded superb. Ten from the over for England.
3rd over ENG 6-0
Behrendorff, who took a five-for at Lord's when the two sides met in the group stage, is hitting fine line and length. Maiden.
2nd over ENG 6-0
Starc ruins his maiden start with a wide. But a strong start by the tournament's leading wicket-taker.
1st over ENG 5-0
An inside edge to open up for Roy before he gets England off the mark with a single off the four ball. Bairstow marks his first delivery with a lovely four to settle his nerves.
Bairstow and Roy are at the crease, with Behrendorff opening the bowling for Australia. The openers are looking to improve their impressive recent form together.
Not long until England begin their reply at Edgbaston. However, Australia do have the tournament's leading wicket-taker…
Archer believes England have been in knockout mode since the latter stages of the round-robin group stage but had time to praise IPL team-mate Smith for his innings of 85.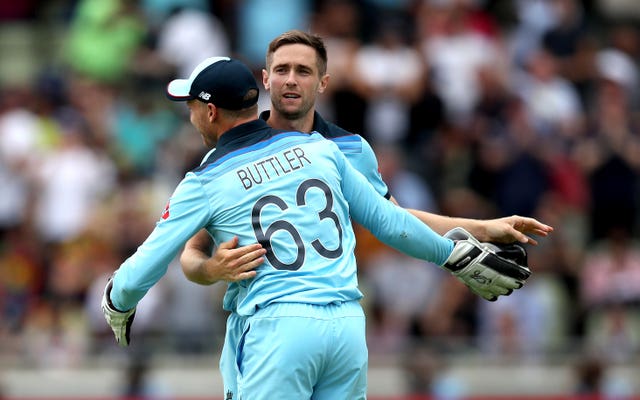 Woakes finishes as the pick of the England bowlers with three for 20. Having lost the toss, to bowl Australia out for 223 is a fantastic effort from the bowling unit.
All eyes on the batsmen now, but England are firm favourites to chase this one down.
AUSTRALIA ALL OUT 223
WICKET Behrendorff 1 b Wood
A searing yorker from Wood does the job and warps up the Australia innings with an over to spare.
48th over AUS 218-9
Two wickets in the over leaves Australia with just one wicket intact.
WICKET Starc 29 c Buttler b Woakes
With the partnership broken, Starc now follows Smith back to the pavilion, getting a thin edge on a booming drive through to Buttler as Woakes bags his third wicket.
WICKET Smith 85 run out Buttler
A superb innings from Smith is ended by an equally-brilliant bit of fielding from Jos Buttler as the keeper completes a run out with a direct hit.
47th over AUS 217-7
Wood continues with Australia taking five runs from the first three deliveries of his over. A bouncer draws a top edge from Starc but it lands short of fine leg as seven come off the over.
46th over AUS 210-7
Woakes returns to bowl at the death for England. Gets one to keep a little low to Smith – that will interest Australia's seamers – and then raps him on the pads. Not out the decision.
England go for their review, which is kept as the ball is shown to be clipping the stumps. Smith survives on umpire's call.
45th over AUS 206-7
SIX! Starc begins to cut loose as he clubs Plunkett's first ball of the over down the ground for six. A good over for Australia as Smith pulls the final ball for four.
That's 14 from the over. Can Australia drag themselves up to 250? Five overs to go.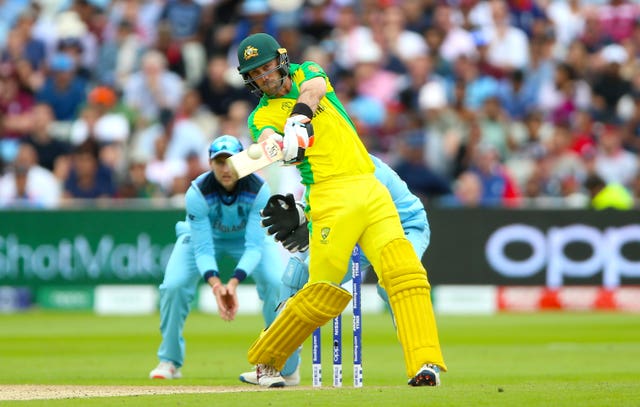 44th over AUS 192-7
There comes a much-needed boundary. It is not a great ball from Wood, in truth, as Starc drives a half-volley down the ground for four.
Wood tries a bouncer which slides down the leg side for a wide as the bowler ends up sprawled on the deck – a common sight with the Durham man.
43rd over AUS 186-7
Smith carves the final ball of Plunkett's over away for two into the off side, but boundaries are a rare commodity for Australia at the moment. The 'score predictor' now sits at 222 – a target England would surely relish chasing.
42nd over AUS 181-7
These two are backed into something of a corner. They can not afford to take too many risks as Australia bid to at least bat out their 50 overs. As such, they are content to nudge the ball around and take five from the over.
41st over AUS 176-7
Really tight stuff from Plunkett who keeps Starc completely tied down in that over. One from it. Australia have no momentum at all.
40th over AUS 175-7
Wood returns to the attack and Australia take four from the over. Starc capable with the bat but Smith will want most of the strike.
Archer and Rashid have now both bowled out.
39th over AUS 171-7
Smith takes a couple through the off side from Archer's final over. Five off it in total.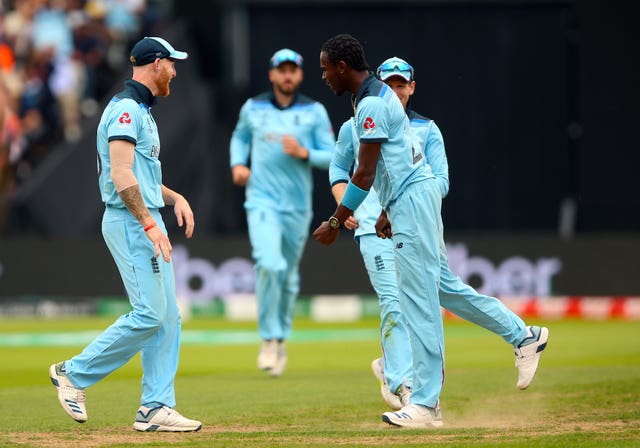 38th over AUS 166-7
Phenomenal over from Rashid, who gets the wicket and then turns new man Starc inside out. That's the end of his spell – what a time to find form!
WICKET Cummins 6 c Root b Rashid
Simple catch for Root as Rashid gets the edge of Cummins and Australia are in all sorts of trouble.
37th over AUS 165-6
Aggressive captaincy from Morgan who goes for the kill by keeping Archer on. Cummins mis-times two shots which almost pop back to the bowler. Two runs from the first ball, two from the last.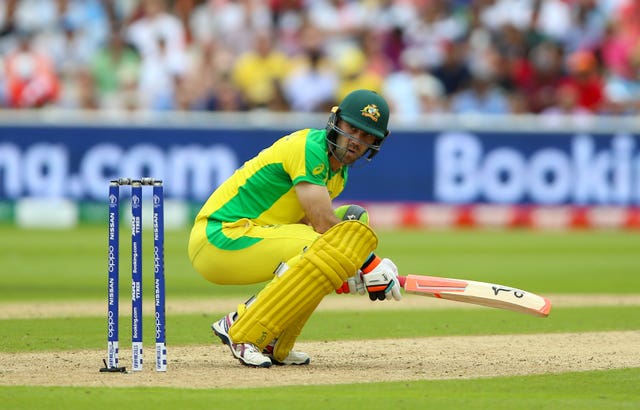 36th over AUS 161-6
Into the bowlers now as Pat Cummins joins Smith at the crease. So much pressure on Smith now, who has 67 from 94 balls.
Just four runs off that Rashid over.
35th over AUS 157-6
Archer draws a false shot from Smith, edging just wide of his stumps, before getting the wicket of Maxwell.
WICKET Maxwell 22 c Morgan b Archer
Archer at it again as Maxwell fails to deliver again. Hanging back, expecting the short ball, he pushes one in the air to Morgan at cover, who has the simplest of catches.
34th over AUS 152-5
Maxwell again looks to attack Rashid, hitting hard through mid-wicket where Bairstow does superbly to keep it to two. But Rashid drags one down for the powerful right-hander to pull in the air for four in the same area. Eight from the over.
33rd over AUS 144-5
Tight over from Archer to keep control for England. Smith and Maxwell manage a single apiece off it.
32nd over AUS 142-5
You know what you will get from Maxwell. He only knows one way to bat. Right on cue, he thumps Rashid over cow corner for six.
The 'Big Show' yet to shine
Maxwell – nicknamed 'The Big Show' has had a below-par World Cup.
31st over AUS 135-5
Morgan turns back to strike bowler Archer to try and capitalise on Maxwell's vulnerability against the short ball. The all-rounder, who has been out of touch all tournament, pulls one for four before playing and missing outside off.
30th over AUS 130-5
Rashid has found his mojo, getting plenty of drift and turn as Maxwell edges just wide of slip. Three from the over, 20 to go for Australia.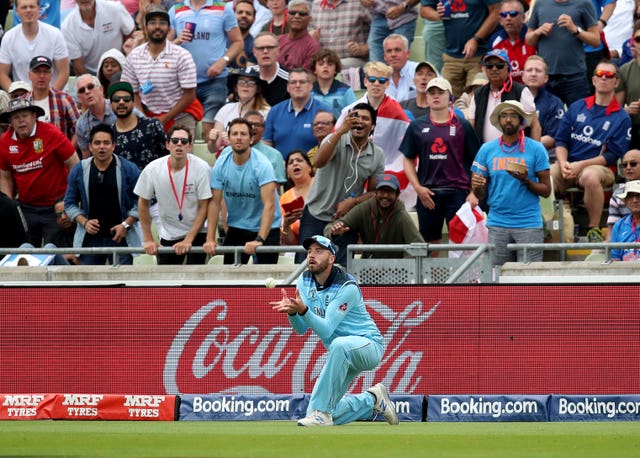 29th over AUS 127-5
Sumptuous shot from Smith, driving a full ball from Stokes through cover for four. Nine comes from that over for Australia, who need this partnership to go well with only the bowlers left to come.
28th over AUS 118-5
WICKET Stoinis 0 lbw Rashid
What an over for Rashid! Stoinis ends up playing a googly in a different postcode, deceived completely by the leg-spinner to come and go for a duck.
Glenn Maxwell is in.
Great knock from Smith, who needs to push on to a big score for his side.
WICKET Carey 46 c sub (Vince) b Rashid
Rashid gets the key breakthrough as Carey makes a huge error, lofting one high into the leg side where he is caught on the boundary by James Vince, who is on as a sub.
Marcus Stoinis comes in at number six.
27th over AUS 116-3
Stokes' return to the attack does not bring the immediate impact Morgan would have hoped for as Smith and Carey carry on serenely. Just the three off the over though.
CENTURY PARTNERSHIP
What a brilliant stand this has been. Smith and Carey's hundred stand comes up from 126 balls.
26th over AUS 113-3
Shot! A crunching sweep through mid-wicket by Carey demonstrates the confidence this Australian pair now have, especially against Rashid – whose four overs have now cost 29.
25th over HALFWAY AUS 103-3
The hundred is up for Australia. Smith and Carey have battled hard to get their side back in the game after being 14 for three.
Plunkett tries coming round the wicket to Carey. The paceman lost his radar a touch in that over, bowling two wides as Australia take five from it.
24th over AUS 98-3
A wayward throw gifts Australia a second run as they continue to milk Rashid. Six from the over and this partnership is now worth 84.
23rd over AUS 92-3
Lovely flowing cover drive for four by Carey, the kind that deserves to be replayed over and over again. He looks in fine touch.
Smith thrashes hard at one outside off which falls just short of Stokes at backward point.
22nd over AUS 87-3
Smith and Carey rotating the strike nicely against Rashid, scoring off every delivery in that over to take seven from it. Not too much turn out there for the leg-spinner as yet.
21st over AUS 80-3
Good over from Plunkett as Australia manage just two singles off it.
20th over AUS 78-3
Adil Rashid into the attack as Morgan turns to spin for the first time. He finds a bit of turn with his first delivery before Australia take a couple of singles. Carey drives on the up for four to take six from the over.
Rashid's leg spin has been one of England's key attacking weapons in their dominant four years of ODI cricket leading up to the World Cup.
He admits he has been nursing a shoulder problem, but the Yorkshireman will be disappointed by his return so far.
19th over AUS 72-3
Smith whips a short ball from Wood for four to start the 19th over. Two more come from the over. The 'score predictor' on Sky Sports' coverage suggests Australia are currently on target for 265. Think they would take that after the start they made.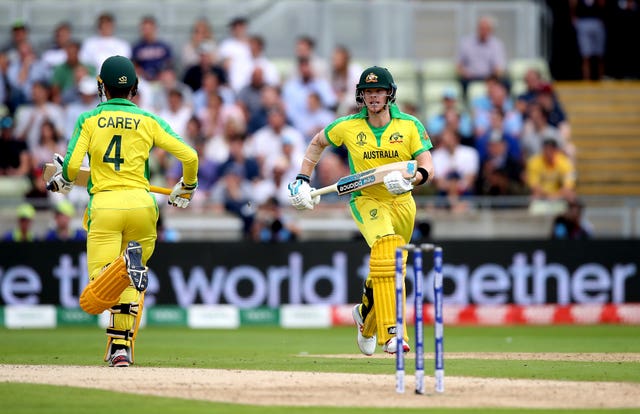 18th over AUS 66-3
Four from the over for Australia. The ball seems to have stopped nipping around as much as it was in the first few overs.
17th over AUS 62-3
Wood bowls with pace and aggression but Smith has the answer. Another wristy flick brings two into the leg side before he throws his hands at a wide one and thrashes the final ball of the over to the fence for four.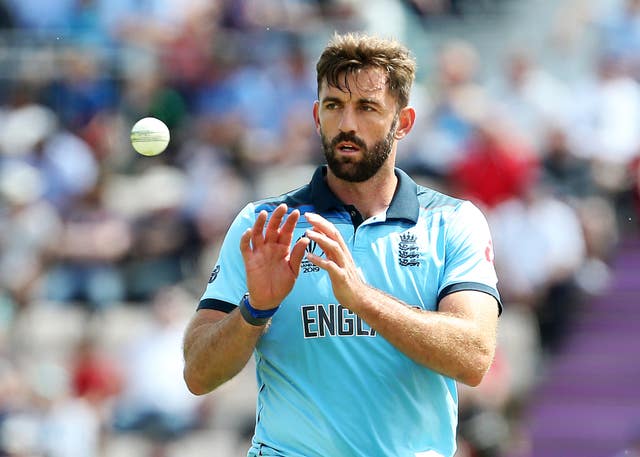 16th over AUS 55-3
England's three defeats in this World Cup all came when they opted to leave Liam Plunkett out of the side. In fact, England have not lost any of their last nine completed ODIs when Plunkett has been playing.
He is into the attack and is greeted by a glorious drive down the ground for four by Smith.
Carey tries to follow suit, but Roy dives to make a half-stop before Wood pulls the ball in on the boundary edge. A few good overs for Australia.
15th over AUS 47-3
Better from Wood who is on the money in his second over. Smith aims an expansive drive which skews off the outside edge down to third man. Time for drinks.
Pressure on Smith
By his own high standards, Smith has not quite delivered as he would have liked so far in the tournament. Australia need him to produce a big knock today.
14th over AUS 45-3
Smith shows signs of intent as he pulls a short ball from Stokes through mid-wicket for four. The former Australia captain works another one through the leg side for a couple and again through the off side to take the score to 45 for three after 14.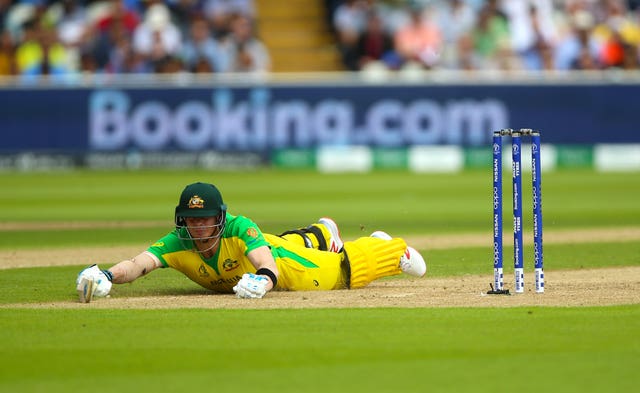 13th over AUS 36-3
Change at both ends as Mark Wood joins his Durham team-mate Stokes in the attack. He bowls three wides in the over, but did beat Carey's outside edge as he wafted at a drive.
Woakes does well to prevent a flick off the pads down to fine leg reaching the boundary. Better over for Australia, seven from it.
12th over AUS 29-3
Ben Stokes enters the attack as Archer takes a break. There is no respite for Australia though, with just a single coming off the over once again.
Stat attack
Our men at Edgbaston with some numbers on this excellent start for England.
11th over AUS 28-3
England have full control of this one. Woakes on the money again, as Australia take just a single off the over.
10th over AUS 27-3
Another good one from Archer as Australia take three from it. 27 for three after 10 overs represents their worst powerplay of the tournament.
Archer on the rise
Archer's dismissal of Finch moved him up to joint third in the standings for leading wicket-taker at the tournament.
9th over AUS 24-3
Carey receives some attention from Australia's medical team, who check his jaw before allowing him to continue.
A leg-bye adds one to the total, before Woakes pushes one past Carey's outside edge. The left-hander responds with the best shot of the morning, crunching a cover drive for four.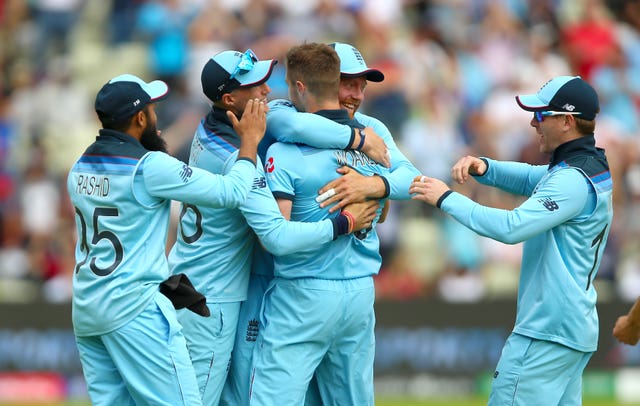 8th over AUS 19-3
Carey produces a lovely drive down the ground which yields three runs. Smith dashes through for a quick single to move to two from 19 balls.
Archer finishes the over with a searing bouncer which raps Carey under the chin, knocking off his helmet which he does well to catch to stop hitting the stumps!
7th over AUS 15-3
Alex Carey is the new man for Australia. The wicketkeeper-batsman has had a fantastic World Cup, but has not been in this early, or in such a tough position.
WICKET Handscomb 4 bowled Woakes
He had not looked at all comfortable at the crease and Woakes picks up his second as Handscomb looks to drive and gets a thin inside edge on to his stumps.
Finch and Warner have scored such a huge bulk of Australia's runs in this tournament and England have now exposed a vulnerable middle order.
6th over AUS 14-2
Beauty from Archer first up to Handscomb which shapes away from the right-hander and just misses the outside edge.
A single off the final ball takes Australia to 14 for two after six overs.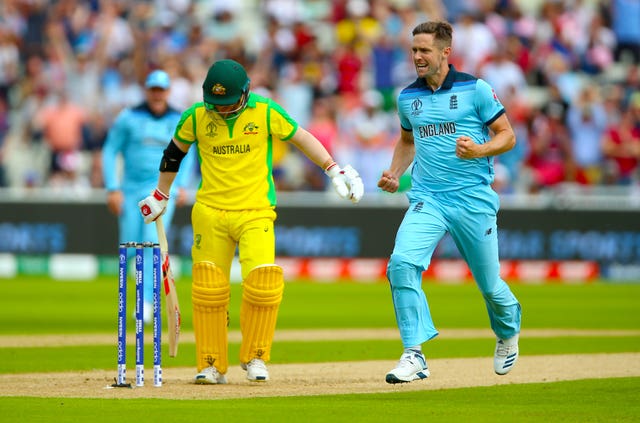 5th over AUS 13-2
Woakes is bowling with real threat on his home ground. Again just the single off the over as Smith is yet to find any fluency.
4th over AUS 12-2
Single to Handscomb off the first ball before Archer delivers five dots to Smith
3rd over AUS 11-2
England all over Australia as Woakes raps new man Handscomb on the pads. Not out the decision, Morgan goes for the review, which shows the ball to be clipping the stumps. The right-hander survives on umpires call so England keep their review.
WICKET Warner c Bairstow b Woakes 9
Warner launches a sublime shot down the ground for four but Woakes responds brilliantly with one that nips away from the left-hander and flies off the outside edge to Bairstow at second slip. Superb start for England!
2nd over AUS 6-1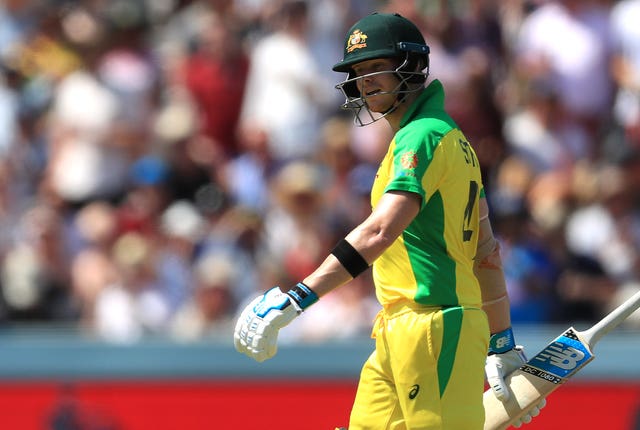 Steve Smith, promoted up to number three for this match, walks to the crease to join Warner. The pair, who returned from year-long bans for ball-tampering ahead of this tournament, have been booed throughout the tournament and it is no different today.
The right-hander picks up a single to get off the mark.
WICKET Finch 0 lbw Archer
First ball from Jofra Archer traps Finch in front. The captain reviews it but replays show the ball cannoning into the stumps. What a start for England!
1st over AUS 4-0
Dream start for Australia and Warner as he strokes the first ball through the covers for four. Woakes responds well, dragging his length back to finish the over with five dot balls.
Can Warner keep up his impressive run of scores?
PLAY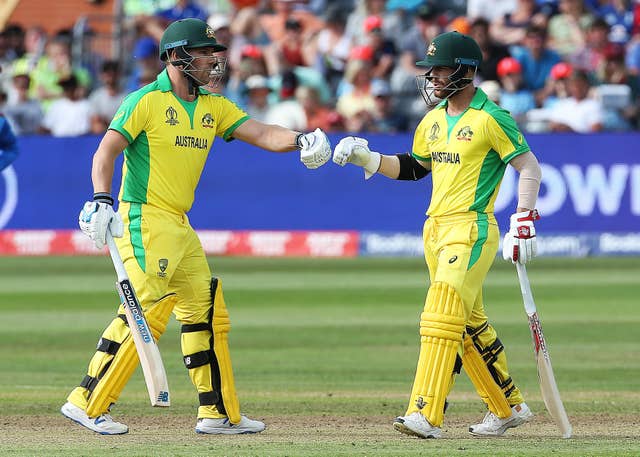 We are underway at Edgbaston, Chris Woakes opening the bowling to David Warner.
10.25
Perhaps not a good time to remind England fans of this little stat?
10.22
Australia's opening pair David Warner and Aaron Finch are pivotal to their hopes and both sit in the top five run-scorers of the tournament. Finch made a century in victory over England at Lord's, while Warner's hundred against South Africa was his third of the tournament.
India and Rohit Sharma's exit yesterday means the door is wide open for Warner to finish top of the pile.
He will also have Sachin Tendulkar's record number of 673 – the most runs at a single World Cup – in his sights.
10.20
10.15
Mitchell Starc will have to wait until this afternoon to get the ball in his hands, but stands on the brink of World Cup history.
Starc is the leading wicket-taker in the competition with 26 wickets
The left-arm paceman needs one wicket to overtake compatriot Glen McGrath for the most wickets taken at a single World Cup.
Two wickets today would move him to outright fifth on the all-time World Cup wicket-taking list. This is only his second tournament!
10.12
Unsurprisingly, Morgan admits he would also have liked to bat first.
10.06 AUSTRALIA TEAM NEWS
Australia have made just the one change from their defeat to South Africa. Usman Khawaja was forced to pull out of the World Cup after sustaining a hamstring injury. Peter Handscomb comes in for him, with Steve Smith moving up to three.
Glenn Maxwell keeps his place after rumours Matthew Wade would replace him.
10.05 ENGLAND TEAM NEWS
As expected, England are unchanged from their victory over New Zealand last week.
10.02 AUSTRALIA WIN THE TOSS AND BAT
Those question marks over England's chasing are going to be answered this afternoon
9.58
We are moments from the toss at Edgbaston. Surely it is win the toss and bat. All eyes on the coin!
9.50
Support from England's football captain
9.47
England captain Morgan has urged his players to enjoy the occasion and embrace the opportunity they have to represent England in a World Cup semi-final.
9.40
All eyes will be on the toss at 10am. England have lost three times in this World Cup and all three came when they batted second.
Morgan won the toss and chose to bat first in their last two matches, but there are bound to be doubts if England are asked to chase in this one.
England have only lost one of their last 11 ODIs where they batted first but have only won five of their last 10 ODIs when chasing.
9.33 HAPPY HUNTING GROUND
Australia's defeat to South Africa set up this meeting at one of England's most successful venues.
In contrast, Australia have not won at the ground in one-day internationals since 1993, with a remarkable six of their last nine matches there finishing as a tie or no result
WELCOME TO TODAY'S LIVE BLOG
England take on Australia at Edgbaston for the right to face New Zealand in the Cricket World Cup final at Lord's on Sunday.
Eoin Morgan's men finished third in the group stage after securing crunch victories over India and New Zealand to book their place in the final four.
Defending champions Australia finished second after losing their last match against South Africa and will hope to beat England for the second time in the competition as they bid to set up a repeat of the final from four years ago.
Follow us here for all the build up and the action as it unfolds at Edgbaston.