New data on Government borrowing has brought some encouragement that Rishi Sunak may meet another one of his five pledges, although whether he can reduce debt remains in doubt.
The priorities have dominated the Prime Minister's public appearances this year, after he promised in his new year's speech to halve inflation, grow the economy, reduce debt, cut NHS waiting times and stop small boat crossings.
Saying there would be "no tricks, no ambiguity" on delivering the pledges, Mr Sunak asked the public to judge his Government on "results".
The Prime Minister's debt target has taken on renewed importance this week following his speech on Monday, in which he listed reducing the national debt as his top long-term economic priority.
Following Tuesday's release of new debt figures, the PA news agency has looked at how his efforts to deliver on the priorities are going.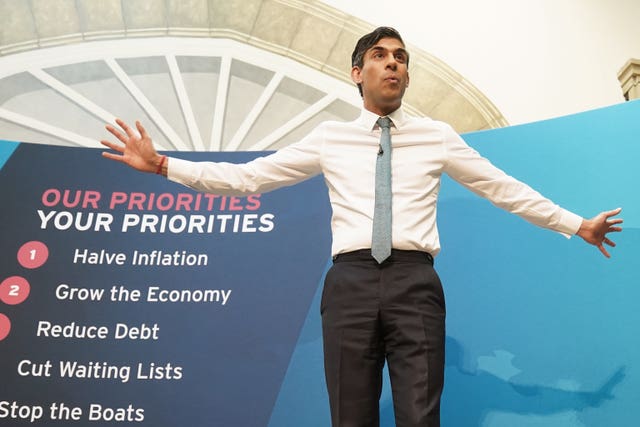 – Halve inflation
The Prime Minister has met his pledge to halve inflation this year.
Mr Sunak needed inflation to fall to below 5.4% in order to meet his target and figures released last week showed this has been achieved, with inflation falling to 4.6% in October.
Economists suggested the fall in inflation was largely due to lower energy costs and rising interest rates rather than Government action, but Mr Sunak hailed the figures, saying he has "delivered" on his "top priority" for the year.
However, Bank of England governor Andrew Bailey sounded a note of caution, saying it was "much too early to declare victory" against inflation.
Despite the fall over the past year, Mr Bailey said inflation remained "too high" at more than double the bank's target rate of 2%.
– Grow the economy
Mr Sunak also appears on course to meet this pledge, although growth has been weak.
According to the latest Office for National Statistics figures, GDP has grown by around 0.6% over the past year, and most forecasts expect growth for the whole of 2023 to be around that figure.
Technically, Mr Sunak is therefore likely to be able to claim success on this pledge.
But the economy is still struggling.
In the third quarter of this year there was no growth at all, according to the ONS.
– Reduce debt
It remains uncertain whether the Government will be able to reduce its overall debt by the end of the year.
Provisional figures for October, released on Tuesday, suggest the total national debt stands at 97.8% – higher than it was in both September 2022 and March 2023, and slightly higher than it was in September 2023 thanks to revisions to previously released figures.
But the figure is still lower than it was at the end of 2022, when total net debt was 99.5% of GDP, and although annual borrowing is higher this year than last, it is still lower than forecasts suggested it would be.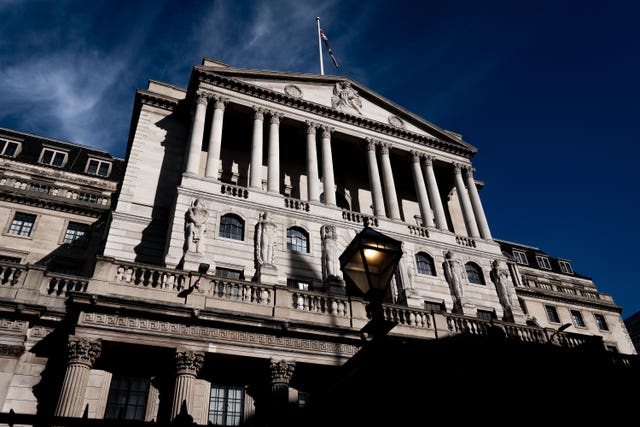 However, there is a further complication in that the Government usually uses a different figure – public sector net debt excluding the Bank of England.
Once this figure is used, total debt is higher than it was at the end of 2022, rising slightly from 88% of GDP to 88.6%.
Further revisions to these figures are likely and Mr Sunak did not set a deadline for reducing debt; the Chancellor's fiscal rules, for instance, only talk about debt being forecast to fall in five years' time.
Mr Sunak therefore seems unlikely to be able to claim a straightforward victory on this target, although some measures may allow him to do so.
– Cut NHS waiting lists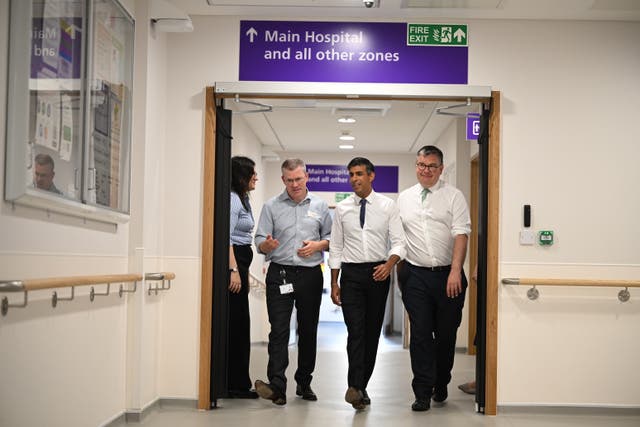 On current measures, it appears as if Mr Sunak will fail to meet this target.
The number of people waiting for NHS treatment reached an estimated 7.77 million in September, a record figure and around 9% more than a year ago.
But the Prime Minister may still be able to claim some success – as the number of people waiting for very long periods has fallen over the past year.
The number waiting longer than two years for treatment has fallen by 90% since September 2022.
Waiting lists of more than 18 months, 15 months and 12 months have reduced over the same period, though the number of people seeing longer waiting times began to creep up again in September.
Figures show an estimated 10,200 people were waiting more than 18 months for treatment in September, compared to just under 9,000 in August and 7,300 in July.
– Stop the boats
Last week's Supreme Court decision that deporting asylum seekers to Rwanda is unlawful was seen as a further blow to Mr Sunak's pledge to "stop the boats", with the Government expecting the policy's deterrent effect to reduce the number of crossings.
Whether that would have been the case, with such a small number of people expected to be deported had the policy been found lawful, cannot be known.
Nor is Rwanda the only strategy the Government is pursuing to "stop the boats", although it is still some way off achieving that.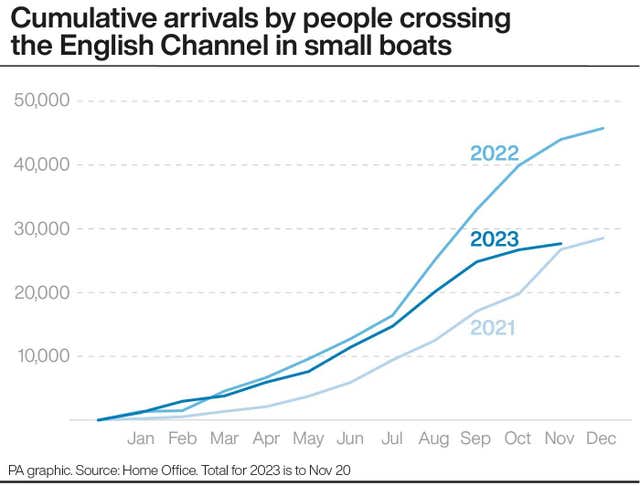 Crossings have reduced. In the year so far, around 27,700 people have been detected crossing the Channel in small boats, compared to 42,200 in the same period last year.
There is some debate as to whether this is down to new legislation, better enforcement or simply worse weather, but whatever the cause, there is still a long way to go before Mr Sunak can claim to have brought the crossings to a halt.
The Prime Minister may also come under further pressure on his "stop the boats" pledge on Thursday with the release of the latest net migration figures, which are expected to show immigration is much higher than in pre-pandemic years.
Although these figures cover mainly legal migration, it will ensure the issue remains in focus.